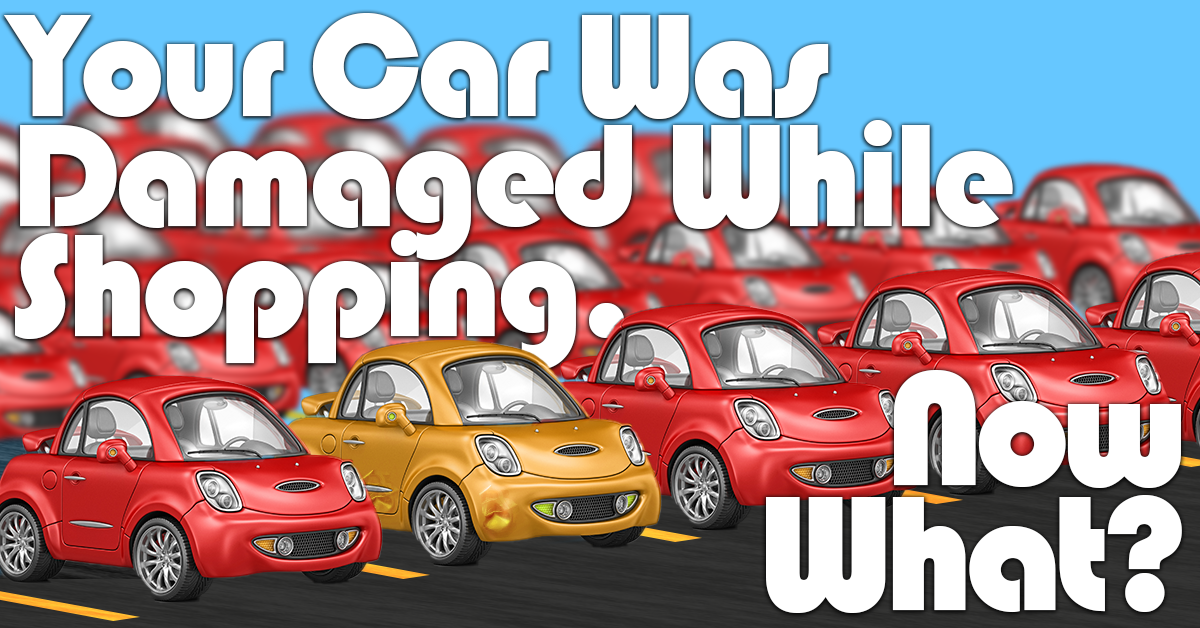 Your Car Was Damaged While Shopping. Now What?
You take a trip to your nearest Big Box store, anticipating the normal pleasant shopping experience. After the joy of traversing miles of aisles, you found what you needed and find your way back to the sprawling parking lot. After signaling your horn so you can find your car you discover it is not as you left it. In fact, someone has banged, dinged or otherwise damaged it and, of course, forgot to leave a note. Now what? What should you do when discovering your car was damaged while you were inside saving money?
The good news is that your insurance will probably cover the damage. The bad news is that frequently damage doesn't meet deductible levels. It can be frustrating and even aggravating, but when you have such an experience, there are certain steps you should take.
1.) When you discover the damage, make note of when and where it occurred.
2.) Document the damage by taking pictures of it.
3.) If damage is severe enough, contact the store manager to see if there may be video surveillance of the parking lot at the time when the event occurred.
4.) Contact your insurance agent. Armed with your evidence you are prepared to let your insurance company know of the damage. They will direct you to the next steps, which will likely include getting estimates on the needed repairs.
Hit-and-run accidents are a criminal offense, and if damage is severe, police should be contacted and a report filed. This too, will substantiate your insurance claim.
Damage to your vehicle can happen almost anywhere at anytime. The best thing you can do is document the damage and if necessary, file a police report. A hit-and-run on private property is slightly different from one that occurs on public spaces. Knowing the appropriate steps to take can help speed the resolution process.
Auto insurance is designed to help protect you and your car whether you are driving, it is parked in your garage or it is on location. Where the damage occurs does make a difference.
Should you have any questions about your current automobile insurance or if it is adequate, we encourage you to contact us. Our independent agents can review your current policy and make valuable recommendations. They may even be able to save you on your automobile insurance coverage. Contact us today.