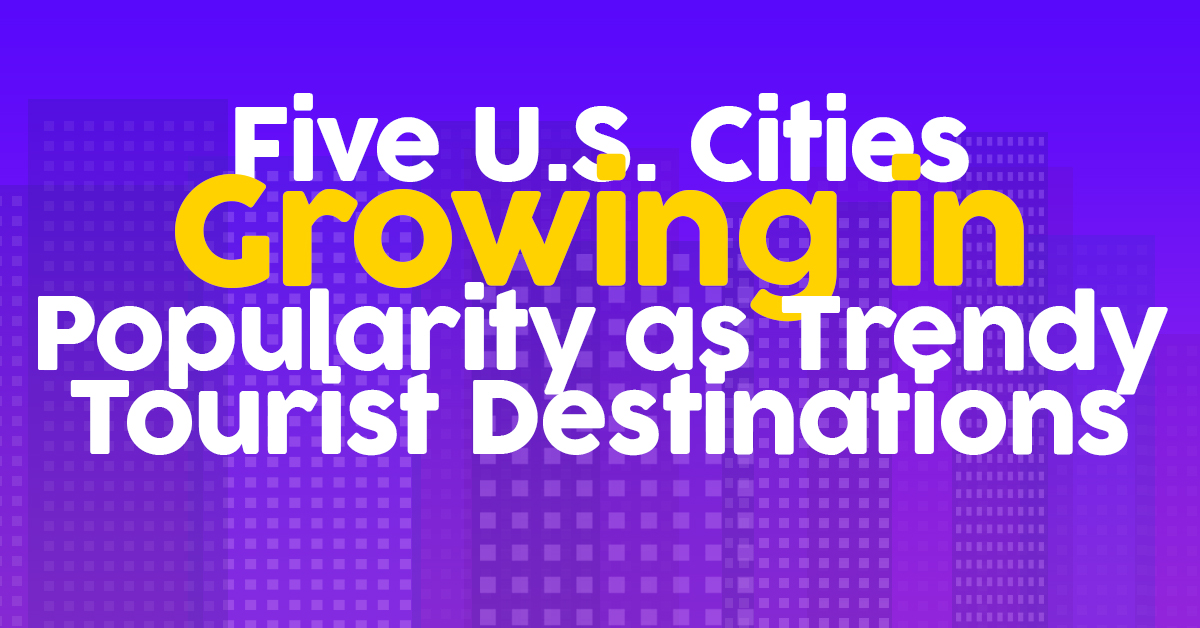 Five U.S. Cities Growing in Popularity as Trendy Tourist Destinations
America is full of terrific cities with plenty of things to see and do. Through the years, various areas have enjoyed significant success as tourist attractions, either planned or organically. The Poconos and Niagara Falls, for example, were once favorite destinations for newlyweds and honeymooners. Las Vegas has seen its day in the sun on multiple occasions. The Mall of America put Minneapolis on the map for travelers for years. Major cities like New York, Boston and Washington will always lure visitors. What cities today, however, are trending for younger people? What is fueling their popularity? Here is a look at five such cities growing in popularity for tourists.
Asheville, NC
Located in Western North Carolina, Asheville is nestled in the scenic Blue Ridge Mountains. The city has an extraordinarily vibrant arts' scene with the River Arts District serving as a centerpiece. Asheville is also home to some amazing architecture like the Basilica of Saint Lawrence and the Biltmore Estate. There's a nice selection of pubs and clubs and you can feel like you are in the middle of nowhere after only a short drive.
Nashville, TN
Nashville has long been the Capital of Country Music but the genre's expanding base of young superstars and seemingly never-ending awards shows has made Nashville as popular as ever. Nashville, of course, is home to the Grand Ole Opry, The Country Music Hall of Fame, Ryman Auditorium and the Johnny Cash Museum. But what really makes it popular is the almost endless string of bars and honky-tonks where you just may catch an appearance by one of the industry's next stars.
Austin, TX
Great food, good drinks and an interesting arts and music scene are just the beginning of why Austin has become such a popular travel destination. It has a number of trendy districts and the city feels safe and is walkable. There are always plenty of events and festivals to spice things up.
Santa Fe, NM
If you are in search of a trendy destination that is off the beaten path, consider a trip to Santa Fe, New Mexico. Located at the Sangre de Cristo foothills, Santa Fe is a hotbed for the arts and features an abundance of Pueblo-style architecture. Adobe landmarks include the Palace of the Governors which now serves as home to the New Mexico History Museum. Every day is a culinary festival in Santa Fe and foodies will enjoy the abundance of Southwestern cusine.
Orlando, FL
Trendy? Orlando? The fact is the Central Florida city is one of the world's most popular tourist destinations and it shows no signs of slowing down. Universal Studios continues to expand its Harry Potter empire and an entire new Universal park is in the works. Disney Is investing in its Star Wars franchise and it recently acquired hundreds of additional acres. It also doesn't hurt that Orlando is just a day trip from world-class beaches and The Kennedy Space Center.
Planning your next vacation? There are some terrific hidden (and some not so hidden) gems out there. Don't be afraid to explore.