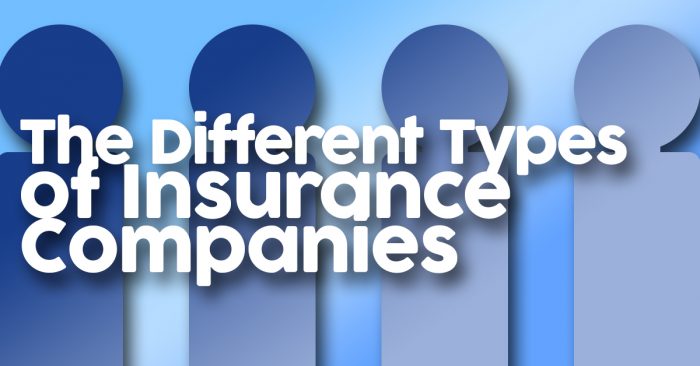 The Different Types of Insurance Companies
The average consumer recognizes that there are differences in fast food companies, automobile companies, department stores and grocery stores. But do you know that there are also significant differences in insurance companies? Insurance companies differ in how they use their profits, how they operate and the products they provide. Here are some different types of insurance companies you should be aware of.
Captive Insurance Companies
These are generally companies that offer a specific type of insurance and who require their agents to only offer their products. They are often advertised as an "Our Brand " insurance company and offer only products their brand provides. Agents representing these companies tie their reputation to the brand they represent.
Independent Insurance Agencies
Independent insurance agencies allow their agents to offer products from a variety of insurance companies. This allows more flexibility for agents to find companies who provide the most effective and cost-efficient products for their customers.
Mutual Insurance Companies
Mutual insurance companies are owned by the policyholders who are considered shareholders. These shareholders often receive dividend payment distributions and may not be penalized by an increase in premiums due to losses. This varies by company.
Stock Insurance Companies
Stock companies are for-profit corporations. They are owned by shareholders who receive dividend payments. Additionally, a company may be classified as a "monoline carrier" meaning it only writes one line of coverage or as a "multi-line company" who writes policies on several different types of insurance. These both can be Stock Insurance Companies.
Lloyds of London
These types of high-risk insurance companies specialize in underwriting unusual items like celebrity body parts, or rare, extremely valuable items. While they specialize in these unusual high-risk items, they also insure more main-street items.
The insurance company best for you will depend on your risks and budget. It is why we believe an independent insurance agency is most valuable in suiting the needs of its customers. We can search multiple companies to find the one best to manage your risks at the most competitive price. To see how we can assist you, simply contact us for a no-obligation insurance review and quote. You are always in control.
We believe we can assist you in finding more personalized coverage at a competitive rate. Contact us today to get started. We would appreciate the opportunity to assist you.