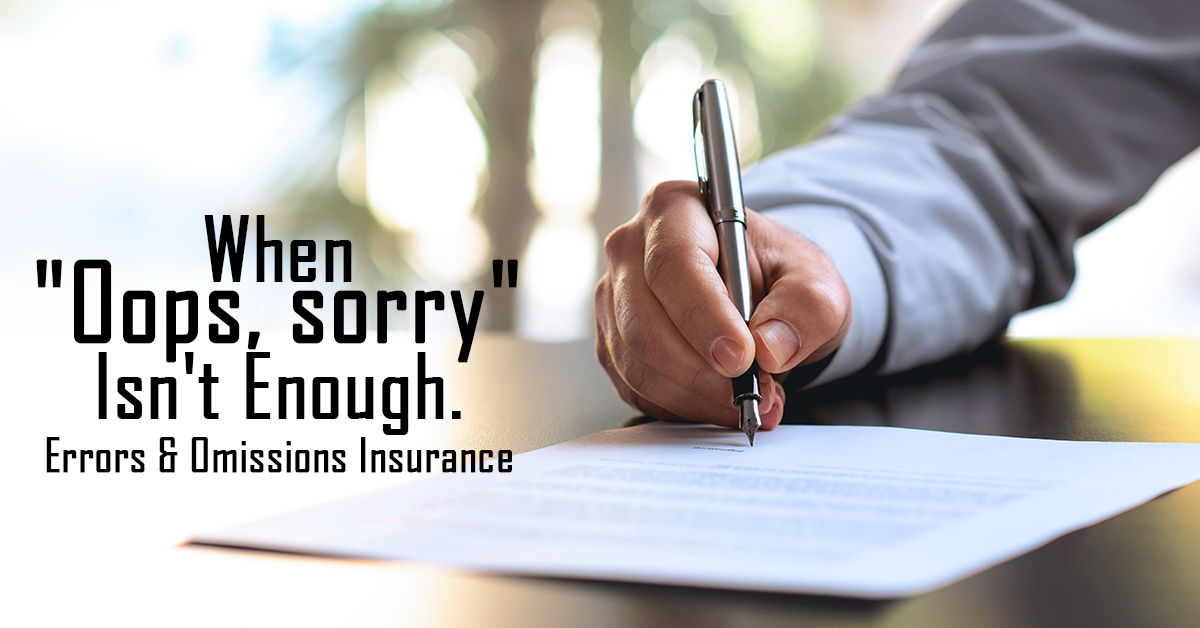 When "Oops, sorry" Isn't Enough. Errors & Omissions Insurance
We can all be subject to liability claims for a variety of reasons. A delivery person could slip and fall on our sidewalk. We may injure someone in an automobile accident. Business owners could have an employee injury someone through faulty work or carelessness. Even professionals like accountants, financial advisors, attorneys, and doctors can be subject to liability claims. In the case of these professionals and others, Errors and Omissions Insurance can provide the needed protection. E&O coverage sometimes referred to as malpractice insurance, is professional liability insurance that protects professionals against claims of inadequate work and negligent actions. It offers a layer of financial protection when saying "My bad" isn't enough.
Examples of E&O Liability  
Consumers of professional services have a reasonable expectation that the professional opinion and advice given to them is accurate, valuable and helpful. They rely that an attorney who suggests a certain course of action is basing his advice on knowledge and experience. A financial advisor who promotes certain investments shouldn't have ulterior motives. A doctor should be prudent in the steps he takes when offering medical advice or conducting a medical procedure. When a consumer is harmed by the advice or recommendations of these professionals, they can seek recourse through the courts through a liability claim.
Of course, a claim doesn't necessarily mean a claim is valid. This is where E&O insurance protects professionals. It makes sure the professional is properly represented in any legal process, and if a settlement is agreed upon, they will be held harmless. Claims against professionals will happen. E&O insurance protects the professional financially in such claims.
Errors and Omissions Insurance can also protect members of a board of directors against legal claims against them for decisions made on behalf of the board they serve upon. This can be critical in a variety of circumstances from non-profits to HOA board members to corporate board members.
Professionals can make decisions that negatively affect others. When these decisions result in a legal liability claim, E&O insurance serves as a line of protection.
Contact us to discuss your liability risks and how Errors and Omissions Coverage can help. We look forward to assisting you in minimizing your exposure.