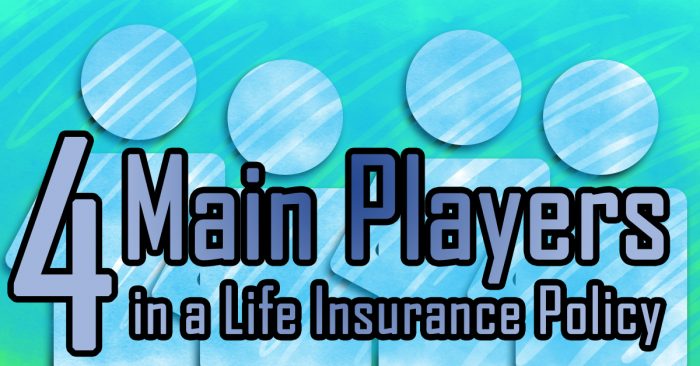 The Four Main Players in a Life Insurance Policy
Life insurance can seem to be complicated. One shouldn't be discouraged by the sometimes complex language and difficult to understand terms, however. When it comes down to it, each life insurance policy involves just four parties. Understanding the role of these four players will help improve understanding of how life insurance works. here are the four.
The Insured
This is the individual on which the life insurance policy is based. A number of personal factors involving this individual will play a role in determining the rates, or premiums, that will be charged for a life insurance policy. Age, health, lifestyle, employment and even where a person lives can help decide what rates are charged. Should this person pass away while the policy is in force, the policy proceeds would be payable.
The Insurer
The insurer is the insurance company issuing the policy. This obligation is not taken lightly as insurance companies are highly regulated. They use detailed mathematical algorithms in determining the rates an individual should pay to have a specific life insured. Once proof of death is provided and it is decided that all terms of the policy have been met the insurer, or insurance company, will pay the entitled amount to the beneficiary.
The Beneficiary 
The beneficiary is the person named in the policy designated to receive the proceeds of the life insurance policy in the event of the death of the insured. This is frequently a spouse, parent, child or other close family member but could also be a business partner or non-profit organization.
The Policy Owner
Frequently the policy owner is also the insured. This is the case, for example, when a husband takes out an insurance policy on himself to ensure the financial future of his family, he purchases and pays for the policy, so he is both the owner and the insured. There are, however, plenty of examples when the owner may not be the insured. One example is when parents take out a policy on their child or children. Another is when a company takes out a life insurance policy on a key employee or partner. The policy owner can only be the beneficiary if he has an "insurable interest" in the insured. This means he must be able to show that the death of an insured would impact them directly.
A life insurance policy is a legally binding contract. This, in of itself, lends itself to include a lot of legal language. The abundance of legal terms, however, should not either prevent or discourage you from getting coverage. If people depend on you financially and would be negatively impacted in the event of your death, you should contact us to get the coverage both you, and they deserve. Contact one of our independent agents today to get a no-obligation quote. You just may be surprised at how affordable life insurance can be.