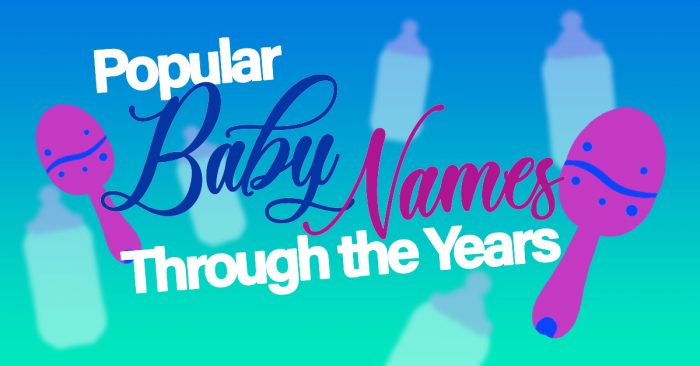 Popular Baby Names Through the Years
Every Parent seeks to find the perfect name for their newborn child. Usually, they want the name to be distinctive and one that is based in family history. Some choose a name on how the initials line up or to avoid the dreaded nicknames when the child is in school. Others simply choose whimsical names. No matter how unique we try to be, however, it inevitably results in a classroom full of children named Jennifer, Michael, Madison or Jacob.
What parents CAN count on is change. Here are the top three names that were chosen for both boys and girls, by decade, over the past 100 years.
1920-1929
Boys:
Robert, John, and James
Girls:
Mary, Dorothy, and Helen
1930-1939
Boys:
Robert, James, and John
Girls:
Mary, Barbara, and Betty
1940-1949
Boys:
James, Robert, and John
Girls:
Mary, Linda, and Barbara
1950-1959
Boys:
James, Michael, and Robert
Girls:
Mary, Linda, and Patricia
1960-1969
Boys:
Michael, David, and John
Girls:
Lisa, Mary, and Susan
1970-1979
Boys:
Michael, Christopher, and Jason
Girls:
Jennifer, Amy, and Melissa
1980-1989
Boys:
Michael, Christopher, and Mathew
Girls:
Jessica, Jennifer, and Amanda
1990-1999
Boys:
Michael, Christopher, and Mathew
Girls:
Jessica, Ashley, and Emily
2000-2009
Boys:
Jacob, Michael, and Joshua
Girls:
Emily, Madison, and Emma
2010-2019
Boys:
Noah, Liam, and Jacob
Girls:
Emma, Sophia, and Olivia
A quick glance at the lists and one can see how boys names have remained more consistent through the decades than that of girls. Michael, for example, has been one of the top three names in seven of the ten decades listed. James, John, and Robert appeared four times each. For girls, the most consistently popular name was Mary, making the list in half of the ten decades listed.
Names also vary by region. According to the Social Security Administration, Ava was the most popular girl's name in 2018 in the Southeast states of Alabama, Louisiana, Mississippi, Georgia, and Arkansas. That same year, Emma was the most popular choice in many of the Northeast States.
The names chosen for children may change through the years, but protecting their interests with life insurance has not. Life insurance can help make sure your child has the financial resources to live a good life and even attend college should something happen to you. If are expecting a child or already have a young one, now is the time to consider life insurance. Contact one of our independent agents for a no-obligation quote today.