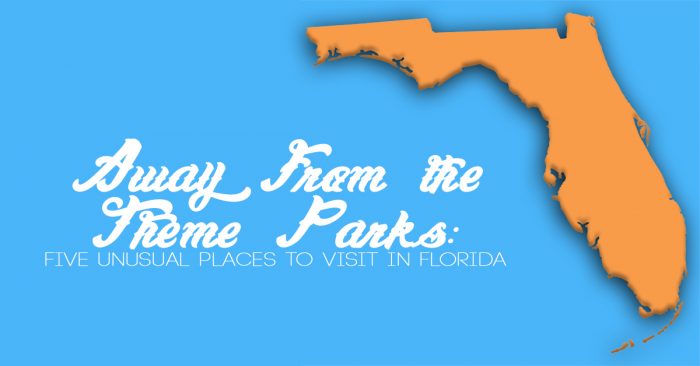 Away From the Theme Parks: Five Unusual Places to Visit in Florida
Of course, Florida is noted for its gigantic theme parks that draw people from all over the globe by the millions each year. But if you have tired of wizards and magic and princesses, there are other interesting places to put on your agenda when visiting the Sunshine State. These may be a bit off the beaten path and offer some unusual attractions you may not otherwise consider, but perhaps you should. Here are five unusual places to visit while in Florida.
Cassadaga
This small community about an hour north of Orlando is known as the "Psychic Capital of the World." The community's legend began when the Cassadaga Spiritualist Camp was set up in the area around 1875. It was founded by a trance medium named George P. Colby, from Pike, New York. It is believed Colby was directed by a Native Indian Guide named Seneca to set up his spiritualist camp in the area. Today, the Camp features the Cassadaga Hotel, an auditorium, The Colby Memorial Temple, a community library, a healing center, bookstore, welcome center, and the Andrew Jackson Davis Educational building. It is a very popular destination for tourists throughout the Halloween season.
Tallahassee's Komodo Dragon Sculpture
Find the Guyte P. McCord Park at Thomasville and Armistead Road in Tallahassee and you are on your way to experiencing some interesting sculptures including the Komodo Dragon. Created by sculptor W. Stanley "Sandy" Proctor, it is one of several sculptures in the park. Proctor perhaps is best known for his Bobby Bowden sculpture at Doak Campbell Stadium. Komodos are not native to Florida so it is not fully understood why the sculpture found its home here.
The Coral Castle
Visitors to Southeast Florida may want to visit the Coral Castle on their agenda. Located between Homestead and Leisure City, this interesting structure was single-handedly built by a five-foot-tall Latvian named Ed Leedskalnin. It was built over 20 years without the aid of modern construction equipment and sculpted out of about 1,000 tons of coral rock. It is estimated that Leedskalnin weighed about 100 lbs.
Spook Hill
Watch your car roll uphill at the interesting and somewhat amazing Spook Hill in Lake Wales, about an hour east of Tampa. A sign at the base of the Hill explains the legend stating "Many years ago, an Indian village on Lake Wales was plagued by raids of a huge gator. The Chief, a great warrior, killed the gator in a battle that created a small lake. The chief was buried on the north side. Pioneer mail riders first discovered their horses laboring downhill, thus naming it 'Spook Hill.' When the road was paved, cars coasted uphill. Is this the gator seeking revenge, or the chief still trying to protect his land?"
Mystical powers, magnetism or optical illusion? You decide.
Devil's Millhopper Geological State Park in Gainesville
This hidden find gives guests the opportunity to hike into a 120-foot sinkhole that includes a mini-rainforest, small waterfalls, and lush foliage. A large number of wooden stairs and decking takes you down through the sinkhole to explore this natural Florida experience.
Take the mystery out of your auto insurance by contacting us. Our independent agents can steer you toward money-saving coverage to suit your needs and budget. Contact us today!