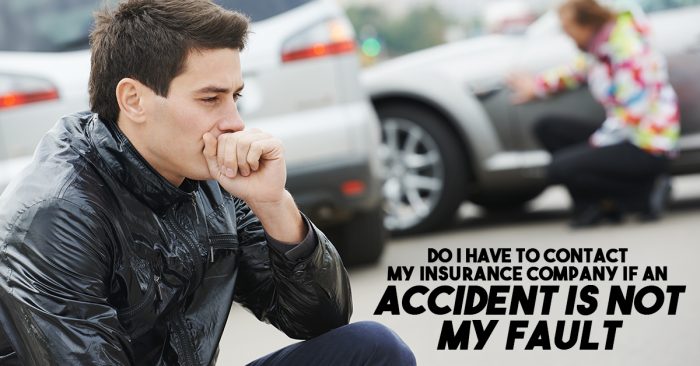 Do I Have to Contact My Insurance Company if an Accident is Not My Fault?
Some people have a reluctance to call their insurance company. They may feel such contact will initiate some mysterious spin of the insurance premium wheel and increase their rates. They may feel even so much as an inquiry may start some unstoppable force that will result in an increase in costs. Let us assure you neither will happen.
Now, it may be true that if you are involved in an at-fault accident, under certain conditions, it could result in a rate increase. This can be especially true if you were found extremely negligent.  However, that should never stop you from contacting your insurance company if you are involved in an accident. 
Let us be clear: You should contact your insurance company if you are involved in an accident with damage or injuries whether you are at fault or not.
There are several reasons for this. First, a vehicle that your insurance company insures and a driver it provides coverage to was in an accident. They need to know this. There may also be certain coverages in your policy, like towing or a rental car, that may be beneficial for you to use. Most importantly, however, is that your insurance company can make sure you get coverage from the other driver's insurance policy and are defended in the event any claims are levied against you. These claims may not occur immediately. You should, however, notify your insurance company in writing, making note that you are not filing a claim, but just notifying them of the incident. This will alert them should future claims be made.  
Contrary to continuing legends, insurance companies are not looking for reasons to raise your premiums. They are actually trying to maintain and grow their customer base through responsive service. They can't provide that if they are not properly notified.
As an independent insurance agency, we work on your behalf. We work as your ambassador when we are researching initial price quotes and we work as your liaison in a claim. We are also confident in working with companies with a history of responsive and responsible service. Get the coverage and the service you deserve. Contact us for a no-cost, no-obligation auto insurance review today.