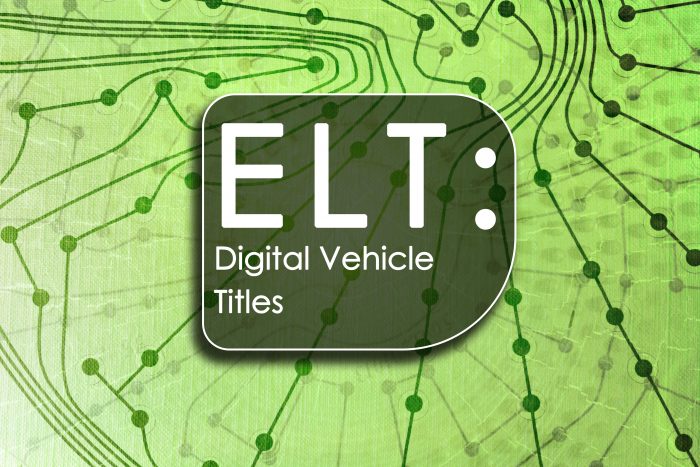 The Internet of Things has extended to so many things in our everyday lives. The idea behind the conversion is to increase convenience for quick, painless transactions. Within the last few years, states have begun using an electronic title instead of a paper title.
Not all states participate yet, while others require you to have an electronic title. Whether the ELT is mandatory or optional depends on your state's guidelines. The new electronic title program is called ELT, or Electronic Lien and Title, or e-title programs.
The e-title is a digital record that replaces the paper copy of your title. The document serves the same purpose, to show ownership of the vehicle. The title contains personal information about the owner of the vehicle. The ELT system transmits information between lenders and the Department of Motor Vehicles (DMV.) The lien holders that are listed on titles are able to communicate digitally with the DMV. As a result of this system, paperless transactions can be used for the addition/deletion of lien holders on a title.
If you finance your vehicle when you purchase it, the lender will be listed on your title as a lien holder until the loan is paid off. The title will be held by the lien holder in digital format, if your state participates. Once you pay off the loan in full, the lien holder will submit a release of the lien to the DMV. Once this is complete, the lien holder is deleted from the title and an updated certificate is created. This makes the transaction faster.
Advantages of ELT:
Most companies have embarked on the journey of going paperless. One of the most obvious advantages is the positive impact on the environment this action could have
Reducing the amount of storage space needed
Ease of access to records
Helps prevent loss of paper title
Quicker to send titles digitally
Helps reduce fraudulent activities
Disadvantages of ELT:
If an owner wants to sell the vehicle, there may be a waiting period while the digital copy is transferred into a paper copy to be mailed out.
Not having a physical copy on hand when needed.
Fortunately, you can make a trip to the DMV to order a copy of your title. However, there is a fee. The cost ranges depending on your state. In Colorado, for example, it's $20 to receive a copy of your title. Does your state participate in ELT?