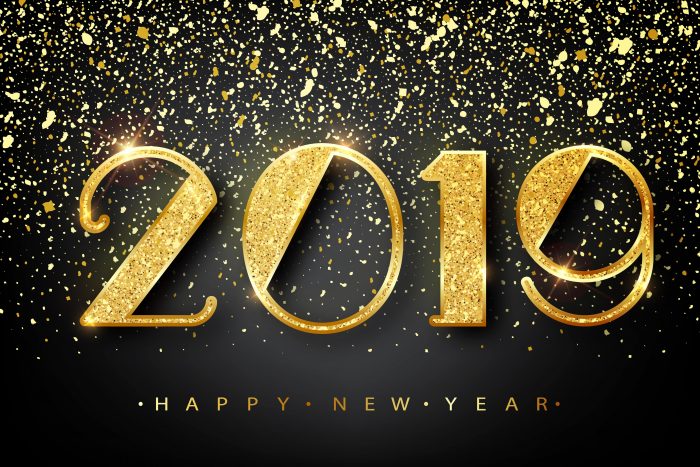 Take a few minutes to review the past year. What did you learn from your successes? What did you learn from your failures? Remind yourself of the mistakes that you do not wish to make again. It's important that you learn lessons from what you've been through, but do not live in the past. Move on with more knowledge than you had before.
Set goals, or resolutions. Financial goals, physical goals, attitude goals, education goals. You can set goals for every aspect of your life. What do you need to improve on?
Try not to wake up with a hangover. New Years Day is on a Tuesday, and it's a good idea to show up to work with a smile on your face, ready to take on the year. Maybe stick to one or two celebratory drinks since it's a work night.
Write out your intentions and hang them up on your refrigerator or in your office. For example, write "I will do the dishes after dinner," or, "I will not spend too much money eating out." Whatever it is that you feel on your heart is beneficial to you, write it out. That way, you can read it everyday, reminding yourself to make it happen.
Be realistic with your goal setting. Do not set the bar unreasonably high, leaving room to let yourself down. Set goals you can accomplish, giving you the chance to exceed the goals you made.
Let go of things that do not serve your greater good. Whether it's a toxic relationship, or giving up the habit of cigarettes, leave it in 2018. Make room for the things that improve your overall health and wellness.
Create a budget. Financial prosperity is something most of us strive for. Keep track of where all your money is going to start saving extra.
Your attitude can change your life. Focus on the positives. Become aware of your thoughts. After a thought, ask yourself if it was positive or negative. If you have negative thoughts, try replacing them with multiple positive thoughts. Negativity is a domino effect.
In your mind, picture yourself where you want to be. How you wish to look, act, and where you want to be in your work. Painting that picture is motivational. Starting now, start taking action to be that person you envisioned.
"Be at war with your vices, at peace with your neighbors, and let every new year find you a better man." — Benjamin Franklin