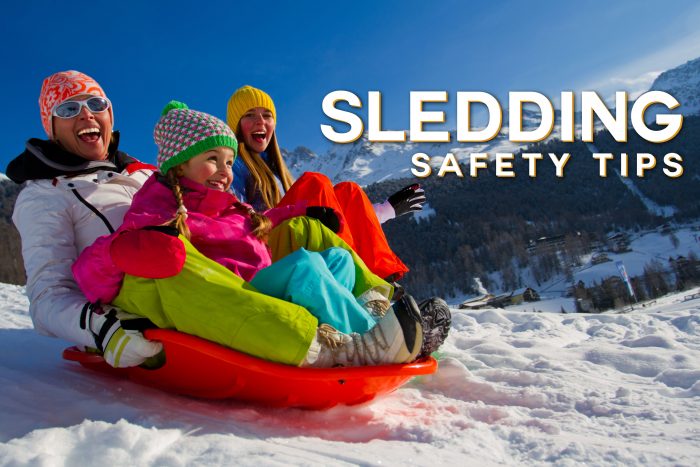 Do you remember the excitement as a child of waking up and looking outside to a lawn full of fresh snow? For generations, sledding has been a tradition among friends and family. Just like with anything else, safety is the most important priority of fun activities for children. While parents want their kids to have fun, parents also want to know their children are safe. This winter, follow these holiday tips for a safe but enjoyable sleigh ride.
A hill that's covered in snow looks like a great place to sled. However, there can be unseen sticks and rocks under the layers of snow. As children slide down the hill, they can pick up more speed than expected, resulting in a crash. The dangers of sledding may not cross anyone's mind until it's too late. The reality is that it's common for children to get injured with bruises, cuts, and broken bones. Even worse, sledding can result in head injuries that end with a trip to the emergency room.
First things first: picking which sled is best. From the classic wooden sleigh, to the Olympic skeleton sled, there are many different options. Try to avoid tubes and sleds that cannot be steered. If you can steer the sled, it's safer. Another thing to look for is that the sled has rails to lift it off the ground. When you find the right sled for your children, it's time for fun.
Supervise your children while they are sledding. This is a must. When you are present as the parent, you can make sure the chosen sled path is safe and without obstacles. Make sure the path is nowhere close to a street, to avoid accidentally riding out into the street.
Layers upon layers of clothing. Keeping warm is essential. Kids can get sick in the winter temperatures.
It's never a good idea to substitute another object for use as a sled. For example, grabbing your metal trash can lid is not a good idea. It's simply not built to be ridden down a hill. There is little to no safety or control when riding a different household object as a sled.
Choosing a perfect hill is also important. The ideal hill will not be too steep, and will have a long flat area at the end to give time to slow to a halt. Again, avoid hills near the roads, parking lot, or pond.
Be sure the height of snow is efficient for sledding. If there is still grass visible, the snow is likely not high enough to provide a cushion in case your child falls off the sled.
Sled during the day, not at night.
One sled per child is recommended for most sleds. With more than one person per sled, the ability to control/steer is lost. The impact of a crash can be far worse, as well, with the potential that multiple bodies will pile up on each other.
Face forward. Feet first.
Have your children wear helmets to prevent head injuries. Head injuries can be deadly.
Kids have the darndest ideas. Do not allow them to ride a sled that is being pulled by a motorized vehicle. Do not allow them to build ramps or obstacle courses.